Tripawds is a user-supported community. Thank you for your support!
Winston has some great news to share! We found out through some additional staining of Winston's tumor, that it was a soft tissue sarcoma, and not osteosarcoma. For Winston, this means that he is cured with his amputation surgery. The surgeon got everything, and the margins were good.
We feel so blessed and over-the-top happy with his prognosis.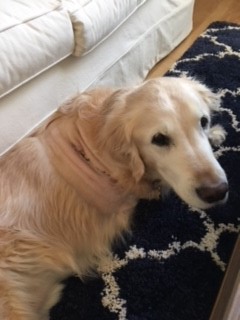 Winston is in his 4th week of recovery from the amputation surgery, and while we've had an issue with his incision and slight infection, he is becoming his sassy, stubborn, and lovable self again! He took me on a long walk this morning, and while he had a lot of energy to begin the walk, he had to stop every 10 feet on the way back. I'm not convinced that he was tired, but I'm sure he  thought it would be fun to extend his walk time.
Winston's mom