Tripawds is a user-supported community. Thank you for your support!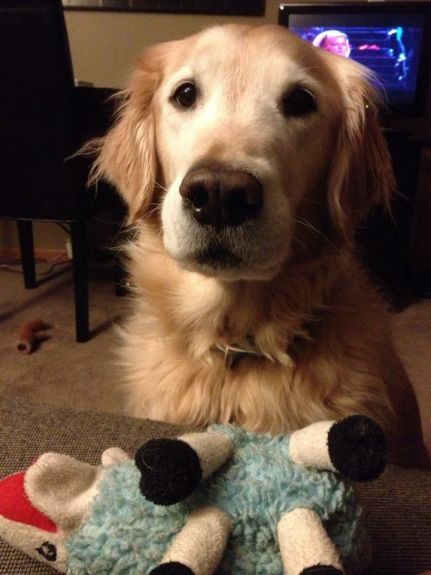 Winston, my beautiful and spunky 10 ½ year old Golden Retriever, started limping in February 2018. After a week of limping, I took him to the emergency vet who determined that he had a sprain in his right front leg. We started him on anti-inflammatory medication, and kept him quiet to rest his leg over the next few days. After 3 days of showing no improvement, and actually getting worse, I brought him to our regular vet, who determined that the pain was actually in the area of his right shoulder, and ordered a sedated x-ray for the next day and also ran a lab panel. The shoulder x-ray was inconclusive, so Winston received pain medication and a referral to a specialized ortho surgeon.
The next week, we saw the ortho surgeon who determined that there was a large mass in his right shoulder area, and was fairly certain that it indicated a cancer with an undetermined stage. Winston had a biopsy of the mass the next day to determine the stage, and again, it was inconclusive, however the vet felt confident that it was cancer, and that amputation of his right leg and partial shoulder blade could potentially provide a full cure for this sweet boy.
Winston had his amputation on March 19th, and seeing him for the first time after surgery was emotionally shocking, yet I was so thankful that he made it through just fine, and happy that he had the finest care from the ortho surgeon and tech's. Once we got him home, and no matter how much I thought I had prepared myself and my house, my expectations were clearly too high. Every article that I read told me to not expect much during the first week, yet I thought my wonder boy would be different. Winston didn't feel like going outside for almost 24 hours, and didn't feel much like eating that first day home. A visit from my daughter was his motivation to stand, and we were able to get him outside for the first time. That was a huge win for us, and one that I was surprised in its colossal importance! I logged on to the Tripawds discussion board, and received some great information as far as expectation vs. reality that first week.
We have a two-story home, and I moved our life to the first level in order to be of support and assistance 24/7 for Winston during the first week. As we moved through the first week, Winston gained his appetite back, understands the word "medicine" with major excitement (meatball treat), and was walking to the front door to go outside. While he did not have his spunk back yet, he was certainly making progress with his balance and sheer determination to walk.
Our second week post-op culminated in a scary and interesting event. Winston was allowed to come upstairs to sleep for the first time after surgery, and while I pondered all of the safety issues on the upper level, I felt confident that I had thought of everything. Upon waking in the morning, I saw that Winston had wedged his head and part of his shoulder under the bed and was stuck. No matter what I did to free him, I was unsuccessful. As Winston became more anxious and stressed, I called the local police department for help. The police officer arrived shortly thereafter and was able to free Winston without injury or disruption to his incision. The police officer was our hero that day, and I'm sure that a post-op amputee dog was not a priority for him, yet he made us feel like we were, and Winston was happy to make a new friend. We're now rethinking how to reorganize under the bed to ensure that he can't wiggle himself underneath anymore, so the upstairs is again off-limits.
We've had our first check-up with the ortho surgeon, and Winston looks good, is recovering nicely, and  has his spunk and sparkle back.  We are still waiting for the results of the pathology reports to determine the exact type and stage of cancer, yet we are hopeful and praying that it was a cancer that was totally removed, and we hope for a great prognosis. I will share an update when I have it.